Da Films:

1.Lord of the Rings: The Return of the King, The (2003) .... Legolas Greenleaf

2.Lord of the Rings: The Two Towers, The (2002) .... Legolas Greenleaf

3.Making of 'The Lord of the Rings', The (2002) (V) .... Himself / Legolas Greenleaf

4.Ned Kelly (2002) .... Joe Byme

5.Black Hawk Down (2001) .... Ranger Pvt. First Class Todd Blackburn

6.Lord of the Rings: The Fellowship of the Ring, The (2001) .... Legolas Greenleaf ... aka Lord of the Rings: The Fellowship of the Ring: The Motion Picture, The (2001)
(USA: promotional title)

7.Passage to Middle-earth: Making of Lord of the Rings, A (2001) (TV) .... Himself

8.Quest for the Ring (2001) (TV) .... Himself / Legolas Greenleaf

9.Wilde (1997) .... Rentboy ... aka Oscar Wilde (1998)

Notable TV guest appearances:

1."So Graham Norton" (1998) playing "Himself" 3/8/2002

2."So Graham Norton" (1998) playing "Himself" 3/1/2002

3."So Graham Norton" (1998) playing "Himself"(episode # 5.15) 3/1/2002

4."So Graham Norton" (1998) playing "as Himself" 3/1/2002

5."Johnny Vaughan Film Show, The" (1999) playing "Himself" 1/16/2002

6."So Graham Norton" (1998) playing "Himself" 1/3/2002

7."Saturday Show, The" (2001) playing "Himself"(episode # 1.12) 12/8/2001

8."Office, The" (2001) playing "Tony (uncredited)"(episode # 1.5) 8/13/2001

9."Big Breakfast, The" (1992) playing "Himself" 2001

10."Smack the Pony" (1999) (uncredited) (episode # 2.6) 5/26/2000

11."Midsomer Murders" (1997) playing "Peter Drinkwater" in episode: "Judgement Day" (episode # 3.3) 1/29/2000

12."Ben Elton Show, The" (1998) playing "Himself" 1998

13."Casualty" (1986) playing "Bit Part" 1994



First Film---Wilde (1997)
(Played Rentboy)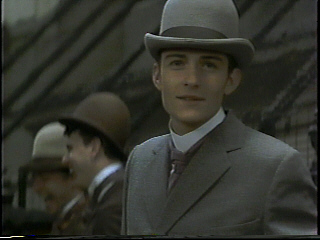 Okay I haven't seen this and its from a while ago. But he looks great and I'm sure its quite good and he does an wonderful job since he got offers after it. In this pictures he is adorable! Aieeee! So cute in da little hat.

My Favorite Orli Movie
Okay let me think really hard here....ummm i dunno...oh come on! DUH! Its The Lord of the Rings! I'm sure his other stuff is wonderful and he's great in Black Hawk Down, of course, but its all about the elf in tights! His acting was amazing, he made Legolas come alive and seem so real and full of life. Orli is just breath-taking! And it is awe inspiring watching his fight scenes, which are extremely exciting. I loved it when he shot 2 arrows at once and the entire troll/orge battle. His performance was top-notch and I've never been so convinced by an actor before. Also, the movie was DAMN terrific and its definitely gonna be one of my favorites for all time. It was SOOO good! Damnit O gotta see it again!